Zago's Girl
---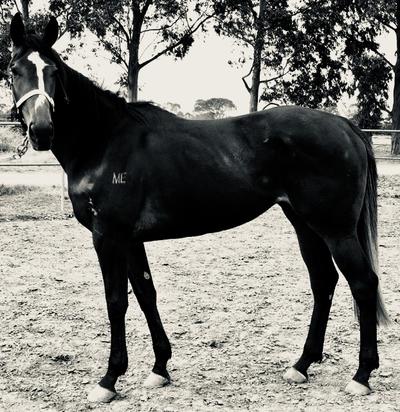 Sire: Hinchinbrook
Dam: Zago
Colour: Bay
Gender: Filly
Age: 4 year old
Foaled: Aug 18th, 2015
Country: Australia
---
Pedigree
BAY OR BROWN FILLY (AUS)

Foaled 18th August 2015

---

| | | | |
| --- | --- | --- | --- |
| Sire | Fastnet Rock | Danehill | Danzig |
| HINCHINBROOK (AUS) | | Piccadilly Circus | Royal Academy |
| 2007 | Snippets' Lass | Snippets | Lunchtime |
| | | Snow Finch | Storm Bird |
| Dam | Zabeel | Sir Tristram | Sir Ivor |
| ZAGO (NZ) | | Lady Giselle | Nureyev |
| 2001 | Annago | Bakharoff | The Minstrel |
| | | Anna's Choice | Vice Regal |

---

HINCHINBROOK (AUS) (Bay 2007-Stud 2011). 2 wins at 2, AJC Skyline S., Gr.3. Leading Aust. First Season Sire 2014-15. Sire of 214 rnrs, 132 wnrs, 11 SW, inc. Press Statement (BRC JJ Atkins S., Gr.1), Whispering Brook, Derryn, Diamond Tathagata, Salsonic, Samara Dancer, Flying Jess, Spright, Flippant, Manaya, The Virginian, SP Beat the Clock, Knowable, Super Too, Brazen, Brooklyn, Old Trieste, Un de Sceaux, Brulee, Nina Peak, Brooklyn Storm, etc.

1st dam

ZAGO, by Zabeel. 2 wins at 1850m, 2400m, AJC Christmas Eve at the Farm H., 2d AJC To Bed Early H. Three-quarter-sister to HADES - HELENE VITALITY (H.K.). This is her sixth foal. Dam of four foals to race, two winners, inc:-

Eclair Spargo - Macau Good (Mac.) (g. by Anabaa). Winner at 1200m, 3d SAJC Toll Express H.

Teahupo'o (g. by High Chaparral). Winner at 1600m in 2017-18 in Aust.

2nd dam

ANNAGO, by Bakharoff. Winner at 1150m in NZ. Sister to Katchmekate, half-sister to HADES - HELENE VITALITY (H.K.), EVERBRIGHT, Swan Lake, Flying Monty (dam of NURSE KITCHEN). Dam of 9 named foals, 7 to race, 3 winners, inc:-

Zago. 2 wins. See above.

Slice of Heaven. Winner at 1350m, 3d Otago RC Dunedin Casino Blackjack H.

Global Pegasus. Winner at 1800m in NZ.

Zabba Dabba Doo. Unplaced. Dam of-

Lushoto (Oratorio). Placed at 2 & 3, 3d ARC Great Northern Foal S., L.

3rd dam

ANNA'S CHOICE, by Vice Regal. Unraced. Sister to Isomer, half-sister to Dove of Peace (dam of SUMA PEACE). Dam of 16 foals, 13 to race, 12 winners, inc:-

HADES - HELENE VITALITY (H.K.) (Zabeel). Top of The 1999-2000 NZ 3YO Free H. (1700m+). 4 wins from 1400m to 2400m, US$400,000, NZ$241,700, A$104,000, HK$9,451,212, New Zealand Derby, Gr.1, HKJC Pok Oi Cup, London H., 2d Nad al Sheba Dubai Sheema Classic, Gr.1, Avondale Guineas, Gr.2, Hong Kong Champions & Chater Cup, L, Hong Kong Gold Cup, L-twice, HKJC Central Avenue H., Cambridge JC Buzz Lightyear 3YO S., Matamata RC Fayette Park 3YO S., Waikato RC Trelawney Stud H., 3d VRC Australian Guineas, Gr.1, Hong Kong Derby, L, 4th VRC Turnbull S., Gr.2, Hong Kong Champions & Chater Cup, L.

EVERBRIGHT (Cape Cross). 7 wins from 1400m to 2400m, NZ$37,545, HK$5,019,000, HKJC Queen Mother Memorial Cup, L-twice, Counties RC Franklin Long Roofing H., HKJC D'Aguilar Peak H., Gage H., Chai Wan H., 2d ARC Hills Pet Nutrition Cup Prelude, HKJC Guildford H., Pok Oi Cup.

Swan Lake (Green Perfume). 3 wins-1 at 2-at 1000m, 1200m, Hawkes Bay Chequers Stud 3YO Trophy, AJC Thakral Holdings Bob Hawke H., 2d Avondale JC 2YO Fillies S., L, STC WN Bull Funeral Directors Series H., 3d AJC Fox Studios P., STC Centenary Institute Fox Sports H. Producer.

Katchmekate (Bakharoff). 2 wins at 2, ARC Empire Rose Juvenile H., 2d SAJC Walter Brown S.H., L, Boardwalk Angel H., WRC Kaapstad H., 3d Counties Challenge S., L, VATC Lowland H., Cleanaway H.

Elbaz. 3 wins at 2100m, 2400m, ARC Cathay Pacific Airways H., Waikato RC Fortuna Thoroughbred Syndicators H., 2d ARC Perfectly Ready H., 3d Manawatu RC Hotel Coachman H., 4th ARC Great Northern Guineas Prelude, L.

Flying Monty. 3 wins at 1600m, 2000m, VRC Hi Jinx H., 3d MVRC Galilee Solicitors H. Dam of-

NURSE KITCHEN (Savabeel). 2 wins-1 at 2-at 1300m, 1600m, A$242,300, to 2016-17, Moonee Valley Fillies Classic, Gr.2, 2d ATC Vinery Stud S., Gr.1.

State Crown. 3 wins from 1850m to 2400m, AJC Roy Higgins H., QTC Queensland Day H., 2d STC Richmond H., 3d AJC Zora Cross H., WR Dovey H., STC Westmead H.

Te Akau Governor. 2 wins at 1100m, 1200m, Hawkes Bay Grant Cullen H., 2d Hawkes Bay Shooters Bar & Casino H., 3d Waikato RC Te Akau Racing Stables Juvenile S., Wanganui JC Ford Dealer Team 2YO S., Kreisler 2YO H.

4th dam

NUCLEAR ENERGY, by Todman. Placed in Aust. Sister to Todman Girl (dam of IMATARE), three-quarter-sister to Humorous Girl (dam of WILD TOUCH). Dam of 8 named foals, 6 to race, 4 winners, inc:-

Isomer (Vice Regal). 10 wins to 1400m, A$197,325, VATC Grange H., 2d AJC Galaxy H., Gr.1, 3d VATC Marlboro Cup, Gr.1. Sire.

Dove of Peace. Unraced. Dam of-

SUMA PEACE (Sumayr). 7 wins-1 at 2-from 1100m to 2000m, A$202,370, MVRC Diamond Jubilee S., Gr.2, VATC Orrong H., VRC Riverside H., Marriott Resort H., Venuto-NAP Mango H., 2d MVRC WH Stocks S., Gr.3, 4th MVRC Bloodhorse Breeders Diamond Jubilee S., Gr.3, VRC Matriarch S., L. Producer.