The team at Laming racing opened the May account with a first of 15 to No Money No Honey at Warrnambool on May 1 when racing over 1700 m on a soft 6, completing the BM64 with a narrow win under Jamie Kah when beating home Hostar from Arti Lucas on the country TAB card.
NO MONEY NO HONEY

6yo Bay Mare
D.O.B: 11-Oct-2012
by HOST (CHI) from HELOGEN
5x Pedigree Report
Mr D J Kinniburgh, Mr A D Mcpherson, Mr D Mcpherson, Mr B P Kearney, Mr J J Ross, Mr P K Tippins, Mr D R Butler
No Money No Honey is a six-year-old Bay mare by Host out of Helogen, having raced on 17 occasions with four wins and two placings earning prizemoney upwards of $68,000, after winning at Warrnambool, progressed to start 17 under Jamie Kah in a Mares benchmark 70/1800 m finishing the runner-up when going down by 1.75 lengths to Bea Tempted in a mid week Metropolitan race. Creator:Alice Laidlaw Credit:Racing Photos via Getty Images
Numerous close calls and placings littered our program of runners as we headed towards May 22 when Dogmatic beat home field of 11 when taking out the benchmark 64 over a mile at Ballarat in a Sportsbet Power Play race on a soft 6.
Jessica Payne piloted Dogmatic to a narrow win beating home Supreme Harmony by a whisker in a time of 1:41.44 after traveling worth than mid field nearing the 400m.
DOGMATIC

3yo Brown Gelding
D.O.B: 20-Aug-2015
by DOMESDAY from UNSWERVING
5x Pedigree Report
Holy Moly Racing, Mr R Cullen, Mr P Males, Mr L A Reichelt
Dogmatic, by Domesday out of Unswerving is a three-year-old gelding, whom chalked up back to back wins after moving up in distance over 2000m on June 1, scoring a Caulfield Metro Saturday prize under Dwayne Dunn beating home Tysonic for a share of the $135,000 in prize money at odds of $9-1 for Laming followers, and keeping the recent acquisition of Dogmatic's perfect winning strike-rate for the stable after the easy win at Caulfield win.
Dogmatic win at Caulfield pictured AAP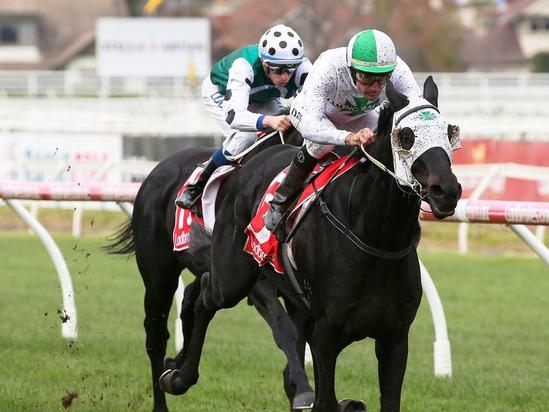 Our team up North was also littered with close calls and placings though the star of the show was Odin's Folly, who took out an 1800m event for maidens at set weights.
ODIN'S FOLLY (NZ)

4yo Chestnut Mare
D.O.B: 11-Oct-2014
by EKRAAR (USA) from VIKING ANGEL (NZ)
5x Pedigree Report

Mr S B Laming
Odin's Folly galloped through a heavy 10 on May 22nd under Dynamite Dan Griffin, to give the four-year-old chestnut mare score a $14,000 cheque by beating home Tantalus & Quotant By near on 1/2 a length.
Odin's Folly by Ekraar out of Vliking Angel was good in removing the maiden tag at start 13 with four placings accompanying prize money now upwards of $24,000. Trackside Photography
The Team is confident that after the number of placings we experienced throughout May, that the month of June could hopefully see some of those converted into race wins as we close in on the halfway point to the year.
Good luck too all.